At Henick Orthodontics, our goal is to offer the best and state-of-the-art orthodontic treatments and technology available to our patients. We understand that every patient is different, which is why we offer custom treatment solutions for each patient. Whether you are looking for traditional metal braces or something more advanced and discreet, like Invisalign, we have the perfect orthodontic treatment for you. Below are some of the treatments we use in our Englewood, North Bergen, and Suffern locations.
Invisalign®
Invisalign® is an orthodontic treatment that does away with hardware, wires, brackets, and bands. Instead Invisalign® uses a series of clear, removable plastic trays – called aligners – to straighten teeth. The clear aligners sit directly on the dental arch, are virtually invisible when worn, and are easily removed for eating, drinking, brushing, and flossing.
The aligners are worn about 22 hours a day, and are only taken out when needed. Each set of aligners is worn for about 1-2 weeks before moving to the next set. With each new pair of aligners, the teeth move closer to their final alignment for a beautiful smile.
Traditional Braces
Traditional metal braces are the most common type of braces used among teens and adults. Traditional braces have become more comfortable today than ever before. Made of high-grade stainless steel, metal braces straighten your teeth using metal brackets and archwires. Braces are fixated to the front of the teeth using a special dental composite. With metal braces, you have the option of adding colored elastics (rubber bands) for a more unique and colorful smile.
Some of the key advantages of traditional metal braces are strength, affordability, versatility, variety, and speed.
Ceramic Braces
Ceramic (clear) braces are the same treatment as traditional metal braces, with one major difference. Instead of stainless steel, the brackets of clear braces are made from transparent ceramic that blends in with the color of teeth. This makes the braces far less visible to observers, minimizing their impact on your appearance and lifestyle. No need to worry about having braces for photos or important social events.
Some key advantages of ceramic braces over traditional metal braces are comfort, more discreet, easier to remove after treatment, and less demineralization of tooth enamel.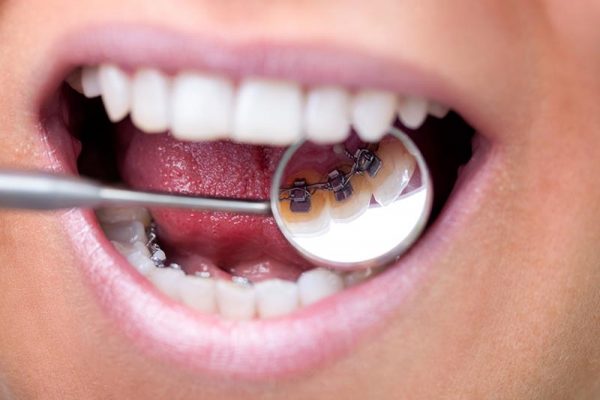 Lingual Braces
Lingual braces are similar to traditional metal braces in that the brackets and wires are installed in the mouth and on the teeth to fix misalignments. Lingual braces differ from traditional metal braces because they are almost entirely invisible. They are placed on the back of the teeth facing the tongue, rather than the front of the teeth. Lingual braces allow for a more discreet option for orthodontic patients not willing to wear traditional braces for a lengthy amount of time. Lingual braces are great for teens and adults, especially those who play any wind instruments.
Benefits of lingual braces are no bulky metal hardware, entirely invisible, any discoloration will be behind the teeth, and are a custom fit for each patient providing a higher level of comfort.
Ready to get that smile you have always wanted?